Posted by: Ether Sep 10 2008, 11:27 PM
Just saw this on PSOW, possibly the biggest news since PSU was first announced.

-------

A brand new title in the Phantasy Star series was just announced by SEGA.

Entitled Phantasy Star ZERO, this will be the series' first outing on the Nintendo DS. ZERO is said to be a completely new game, though it will borrow heavily from the Phantasy Star Online series. This new title will feature a single-player story mode as well as multi-player online through Nintendo Wi-Fi Connection and local area networks (both up to four players). Multi modes will allow for communication through visual chat, which allows players to draw their own artwork or write their own text for their teammates to see.

Keeping in touch with its apparent predecessor, Phantasy Star ZERO will have the return of many race/job combos from Phantasy Star Online. This includes ones such as RAcast, FOmarl, HUmar and HUcaseal, but a few newcomers have also been revealed like the HUnewm and HUmarl. Furthermore, this new title will feature many new areas and lobbies to explore. Three such areas include the Glacea Ravine, Riou Snowfields and the Ozett Swamp. Information is a bit scarce on this new title, but we can expect to see more details in the coming months, as ZERO is slated for a Japanese release this winter.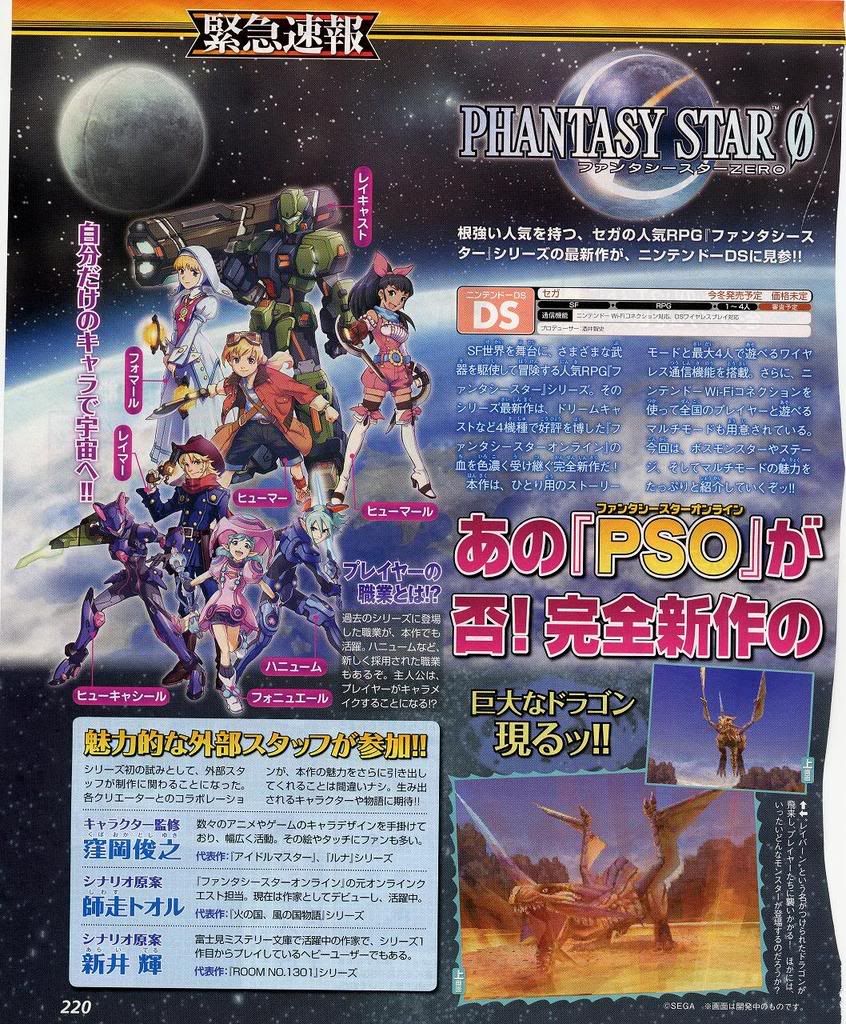 -------

I hate to say it but this looks pretty interesting, I guess this is what ST has been working on the last year instead of another PSU expansion. Hopefully it comes to America!

Posted by: Crushinator Sep 10 2008, 11:38 PM
I don't have much faith in Sega on this, but it doesn't look like complete crap either. Its clearly hard to recapture the "magic" of PSO on DC and GC, but we'll see. The stylus sketch chats are cool, but I can imagine many-a-cock will be seen online.

Also, its hard to see in the scans, but at the characters a little... little? This better not be "Phantasy Star Babiez" or something.

Posted by: Knightsword Sep 11 2008, 06:40 PM
QUOTE(Crushinator @ Sep 11 2008, 12:38 AM)

The stylus sketch chats are cool, but I can imagine many-a-cock will be seen online.
Then it will capture spirit of the pso of old, the symbol chat.
Posted by: Alisha Sep 12 2008, 03:10 PM
looks promising and i do believe i see a fomarl :o

Posted by: Crushinator Sep 13 2008, 02:08 AM
Official site is open now: http://phantasystar.sega.jp/pszero/

Of course all the screenshots are the size of a fucking postage stamp. I swear to fucking god, do japanese people even realize that you can use the internet on something besides a fucking CELL PHONE? The screens are at lower fucking rez than the actual DS screen you play the goddamn game on.

Posted by: Ether Oct 1 2008, 03:24 PM
http://www.gametrailers.com/player/40655.html

Posted by: Crushinator Oct 1 2008, 03:56 PM
The gameplay looks pretty slick, but I hate those Saturday morning cartoon style character designs and jibber jabber faces.

Posted by: AC9breaker Oct 1 2008, 07:32 PM
Oh cool, I didn't know capcom was making Monster Hunter for the DS.

Posted by: Knightsword Oct 11 2008, 01:40 PM
Haha colored item/weapon diamonds return, though it does seem a little painful on the eyes, but thats prolly cause the image has been enlarged from what it would look like on a ds

Posted by: Crushinator Oct 11 2008, 03:59 PM
Yeah, the oldschool item boxes rock. I like the dodging, strafing, and combo stuff too. Its like they took the good parts of PSU and mixed it with PSO.

Just crazy enough to work. Now if we can have a FAIRLY hassle-free online mode we're set. (Friend codes, i'm lookin at YOU.)