Posted by: AC9breaker Apr 4 2006, 09:36 AM
[doHTML]<center>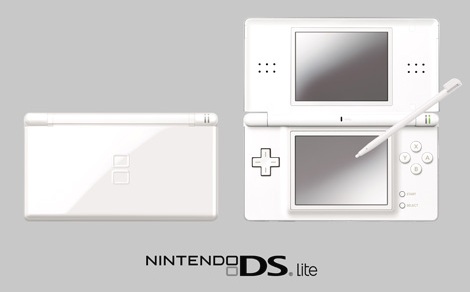 <br><br>
In the latest issue of EGM, it stated that the new model of the Nintendo DS, the DSLite will hit US shores on May. http://apocalypse-tribe.com/athost/ac9breaker/lettherebelite.jpg The fastest selling gaming system in Japan, the DSLite, is also said to be priced at around the same price of the original DS, $130. The release date is possibly to coincide with the release of the new Mario Brothers game due for May. Also reported by various internet sources, the planned Nintendo DS internet web browser by Opera will be out in Japan by June and an unconfirmed December release date in American soils.

With so many improvments on what I thought where problems for the Original DS, I am very excited and surprised to see a release date so soon. What are your thoughts on the DSLite?</center>[/doHTML]

Posted by: Ferra Apr 4 2006, 02:26 PM
Can I trade in my old DS for a new one?

Posted by: Wiryu Apr 4 2006, 03:23 PM
That is a sexy design! I think I will have to buy another DS for absolutley no reason other than that i'm a tool at nintendos will! :D

Posted by: unitself Apr 4 2006, 03:30 PM
I actually don't mind the way the (existing) DS looks. I also have no problems with the brightness of the screen either. I did think it was a tad heavy at first, but I got used to it very quickly. My only complaint with be with the shoulder buttons. I do find them a bit awkward to use, but it's nothing I can't get used to and it hasn't hindered my gameplay any.
The thinness of this new DS Lite seems too thin to me. I could see my hand hurting after only a few minutes of using it, but seeing as though I haven't actually even seen one much less tried one out I can't really say for sure.
I love my DS and haven't regreted buying it at all. Now, if Nintendo pulled what they pulled making the GBA-SP model after that horribly difficult to see the screen first version of the GBA ... then I'd be pissed.



I am really excited to read about the DS Web browser. If they can pull it off and make it useable ... that'll be very very cool. I can't think of how many times I have been sitting on the couch and wanted to quickly surf the web for some movie line or song lyric or something quick. Now, it'll just be a quick DS away!

Posted by: AC9breaker Apr 4 2006, 06:37 PM
I agree with you SCU, other then the weight the DS is pretty solid. But after playing a few intense matches on Mario Kart and Metriod Prime Hunters, I have to put the damn thing down becuase the edges are too sharp. I like how this one looks so smooth and the buttons mushy.

Oh yeah Ferra I'm pretty sure you could trade in your current DS for the new one and only have to pay a small amount like 20 bucks or something. A good deal I say for your aesthetically conscious ninja on a budget.

Posted by: Bryn Apr 4 2006, 07:22 PM
Iíve actually been holding out on buying a DS until this was released. I didnít think about how the edges might be sharp, but the swank look still wins out for me.

Iím a little disappointed over the December release of the browser though. For some reason I thought it was slated for a summer release here, and it was a big selling point for me.

Posted by: Crushinator Apr 4 2006, 07:53 PM
I love the revolution-meets-iPod look of the DSlite. Whenever I play DS, the extra-wide bottom part always digs into my palms, so this new design definetly looks a lot more comfortable to me, and the smaller size is definetly a plus too!

The only thing that sucks is that normal GBA games protrude out the bottom, kinda like how GB/GBC games stick out of the GBA SP. So you can't keep the unit looking all sleek and still have your favorite GBA classic jammed in the slot



In related news, New Super Mario Bros. is going to be the goomba's pajamas!