Printable Version of Topic
Apocalypse Tribe HQ _ Archived News _ Phantasy Star Universe for Xbox360!
Posted by: AC9breaker Apr 19 2006, 12:57 PM
[doHTML]<center>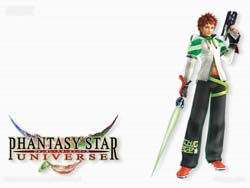 QUOTE ("IGN")
April 19, 2006 - This morning Sega announced it's bringing the highly-anticipated RPG Phantasy Star Universe to the Xbox 360.

Phantasy Star Universe is the next chapter in the long-lived, innovative Phantasy Star series. PSU boasts a deep story and innovative gameplay on and offline with deep character customization, many assorted baddies to battle, and plenty of schwag to collect.

"Phantasy Star has a rich history, and now with Phantasy Star Universe in support of the Xbox 360 and Xbox Live, gamers can enjoy a fantasy role-playing experience of unprecedented depth both online with their friends, and offline in the robust single-player game." Said Scott Steinberg of SEGA.

The beloved RPG Phantasy Star RPG series has a nigh rabid following and the announcement should make many Xbox 360 owning fans very happy.

Phantasy Star Universe will also be available on the PS2 and PC Fall of 2006.





</center>[/doHTML]
Posted by: Zorya Apr 19 2006, 04:35 PM
Will there be voice chat? I can't wait to have 12 year-old, pre-pubescent boys ask me for money and dupes.

Posted by: Knightsword Apr 19 2006, 05:03 PM
I bet this is another deal in a futile attempt to get get JP's to buy x-boxs, but cool news none the less


Posted by: Crushinator Apr 19 2006, 07:14 PM
Haha, I knew it! Good to finally have confirmation.

This is gonna be so excellent, voice chat ahoy! And PSO achievements!

Not to mention high-def goodness.

I am excited.
> Everybody



Posted by: HC82 Apr 20 2006, 10:40 AM
Seeing as how the PS2 is on its way out, I'll be snagging this badboy for the 360. Voice chat, superior graphics, and hopefully HD support to allow actual updates will be key reasons for me getting this one over the PS2.

Did I mention superior graphics?

Posted by: AC9breaker Apr 20 2006, 12:01 PM
I've been wondering though, will customers have to pay for the Xbox live service and, pay for a hunters license? Will PSU even charge for a hunters license? Either way I'm probably going to get it for PC.

Posted by: Crushinator Apr 20 2006, 07:15 PM
Since PSU runs on its own servers and not on XBL, you don't have to have a gold XBL membership to play it. XBL Silver (free) membership allows you to connect to pay-to-play games, as well as download demos, videos, content, and other stuff.

FFXI 360 works the same way, you don't need to have a Gold XBL account, you just gotta have your 360 hooked up to the internet, and then you connect to POL and play the game from there. Any other fees are handled by S-E (or in PSU's case, Sega.)

Posted by: HC82 Apr 22 2006, 03:13 PM
I guess its time to change the poll and add Xbox 360 to the list of possible systems to play PSU on.

Posted by: DJ_Donkey Apr 24 2006, 06:11 PM
From PSOW:

It has been common knowledge for some time that the PS2 and PC versions of PSU will be linked together, allowing players on either platform to interact with each other. There has been much speculation about whether or not the Xbox 360 servers would be included in this as well. PSOW has learned from an official source that, at this time, the Xbox 360 servers (which will use the Xbox Live service) are planned to be independant of the PS2 and PC servers and will not be linked. This means that if you're planning to meet up with your friends in PSU, it might be a good idea to pick your platforms accordingly, as it appears the Xbox 360 PSU community will playing exclusively with other Xbox Live players.

I'm still curious as to where they got this info from.

Posted by: HC82 Apr 24 2006, 06:28 PM
Me too, because if it were an official source, wouldn't you state where it came from?

Anyway, that actually sucks major balls. I was looking foward to playing with people on all the consoles, but this severly limits peoples options. I dunno what to get now. Gameplay wise, the 360 will be the obvious choice for better graphics and the headset, but most people will probably be on PS2 and PC.

I guess my choice won't be made intill I get more confirmed facts and see whose gonna be where on AT.

Posted by: AC9breaker Apr 24 2006, 07:16 PM
Yeah I'm curious as well.


Either way I think its a lame move. I don't have a 360 and wouldn't plan on buying one intill winter but I sure would have loved to game with m8's. on it. I'm totally getting it for PC.

Posted by: Crushinator Apr 25 2006, 04:10 AM
Ugh, that is bullshit if the 360 servers are seperate from the PC/PS2 ones. I call bullshit on that news till I see official confirmation, though.

Powered by Invision Power Board (http://www.invisionboard.com)
© Invision Power Services (http://www.invisionpower.com)