Posted by: Knightsword May 10 2006, 06:12 PM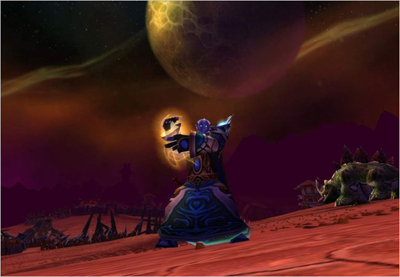 The Draenei
http://www.nytimes.com/2006/05/09/technology/10warcraft.web.html?_r=2&oref=slogin&oref=slogin
QUOTE
Today, as the video game industry gathers here for E3, the top annual game convention, those players will start getting answers. In the biggest piece of news, Blizzard Entertainment, the company behind the game, plans to announce that in the expansion, to be called The Burning Crusade, players will be able to join an otherworldly species called the Draenei.

In the Burning Crusade, much of the action will take place on a planet called Draenor. The Draenei are the remnants of a once-thriving culture there that was mostly destroyed by orcs after the orcs were corrupted by the demons of the Burning Legion — the big bad guys in the game, who oppose both the Alliance and the Horde.

Posted by: Knightsword May 10 2006, 09:12 PM
Heres the offical page

http://www.worldofwarcraft.com/burningcrusade/townhall/draenei.html

Posted by: Mute May 11 2006, 06:27 PM
They somewhat remind me of Galka (well, at least the males ;P). I'll probably make one, I kinda dig how they look.

Posted by: Ferra May 17 2006, 10:05 AM
Horde gets pretty race, Alliance gets ugly race. It's only fair