Posted by: Dive Dec 20 2002, 05:37 PM
I just wanted to put the AT Sig's I've made here as a gallery of sorts. Some of you haven't seen some of these and I wanted to share them.





This is the one I use on other boards currently.





This was made to go with an applet that simulates a water ripple efffect on mouseover.





This is used with the third skin on this board, I may use it as a sig.





The main logo here resized to sig standards.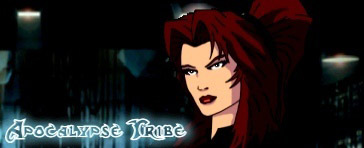 One of the few times I use an actual drawing, rather than rendering in photoshop. The image of Bryn was drawn and scanned then colored with a basic paint program. The background is from a royalty free cgi site.

The one I use below was done 100% in Photoshop and is all original.

Posted by: Woe Dec 20 2002, 06:05 PM
cool sigs bro. i like the one of bryn, im gonna do a custom drawing to use for my sig. heh

we should all add that top banner to our sigs on other forums. its small enough to fit above/below your existing sig.

i've been working on some ill upload later

Posted by: Crushinator Dec 21 2002, 12:34 AM
Man, those are so cool. I wish I could create something that nice :( I like the one we have for the banner now, with the Lab in the background.

Posted by: Rogue Dec 21 2002, 01:30 AM
Those sigs really are quite cool. I really like Bryn's sig. One of these days I'll get around to drawing my own.

Posted by: Mute Apr 17 2003, 12:49 PM
Hey, I know I'm completely new to this place, but I'd really like to use one of those sigs for other forums that I visit. It'll give this place a nice promotion incentive. ;-P What do ya say?

Posted by: Dive Apr 17 2003, 01:18 PM
I have to say I am flattered that you would want to advertise this site in your profile. Feel free to link directly to one of these if you wish. The only exception is the "Bryn" image, as that is custom made for her only. Which one did you have in mind?



Posted by: Mute Apr 17 2003, 01:20 PM
They're all amazing work. Personally, I really dig the third and fourth ones. With your permission, I'd likely use one of those. ;-)

Posted by: Dive Apr 17 2003, 01:30 PM
Go right ahead and link to these. Here are the urls.