Posted by: AC9breaker Sep 14 2006, 01:06 PM
So like back when I was in high school, I was deep into PSO. Sometimes I would just randomly do sketches in my blackbook that I use to carry around for tags and stuff. Anyway one day I did a quick sketch of Forever Zero's humar. Nothing too impressive really, very generic and lazy.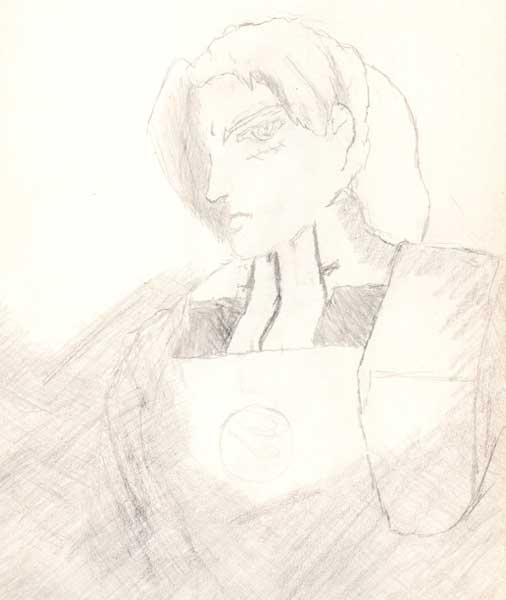 Anyway,that skecth would stay in my book and I would forget about it. A few months ago, Forever Zero started posting here again and I suggested I would make her a sig and avatar using the afore mentioned sketch. I figured, I would use Photoshop and Illustrator and it make it look awesome. Anyway, I made the image into a template and was quickly done with the line work. However, I began to realize how shitty my original image was as the image was coming out like shit too. So I scrapped the project and forgot about it. A few weeks later, I was done with summer course I had signed up for and already registered for fall semester. With alot of free time left intill the fall semester began I thought I would give it another try. This time however I was going to go for the vexeling art technique. I wanted to give the character a real life like look to it. I googled for a few tutorials and quickly got to work. It wasn't long before my efforts where showing some good results.











However I was soon getting frustrated since, my template was just a shitty sketch and getting the right angle in lightning was turning into a bitch. So I would forget about it then come back to it.
Finally though, I've just about finished it. With PSU here and work and school, I didnt think I would get it done. But the end product has a few cutedges. Such as the generic background uninspired pose, and lazy bodywork. I'm satisfied with it, but I totally got lazy in the end and could have done better. haha.

Here ya go, Hope ya like it Zero.








Posted by: Forever Zero Sep 19 2006, 07:39 PM
Lol, I had wondered what happend to that project.

Very nice. I love it! :D *saves to PC*