Printable Version of Topic
Apocalypse Tribe HQ _ The Apocalypse Bar _ At rest: Rinn
Posted by: Layrinn Sep 4 2003, 08:59 PM
Ok, so I'm really into this Photoshop thing lately...

This pic was done in the same vein as all my other recent postings: b&w line art derived from another source, (this time a Video Girl Ai wall scroll)
and then CG'ed from scratch. The hair behind her back and her ear are original illustration.
I did this one fairly quickly... all in one sitting taking several hours, at the most.
I didn't save any of the "inbetween" stages this time, because I normally save copies of those when I'm done with a pic for the day.

So this is all you get. I hope you're not disappointed. ^.~

I don't think this picture's concept needs any explaining. ^-^;; And since I know someone's gonna ask, I'll just tell you now...
Yes, there is an alternate version. *^-^*
And no, I am not going to post it. ;p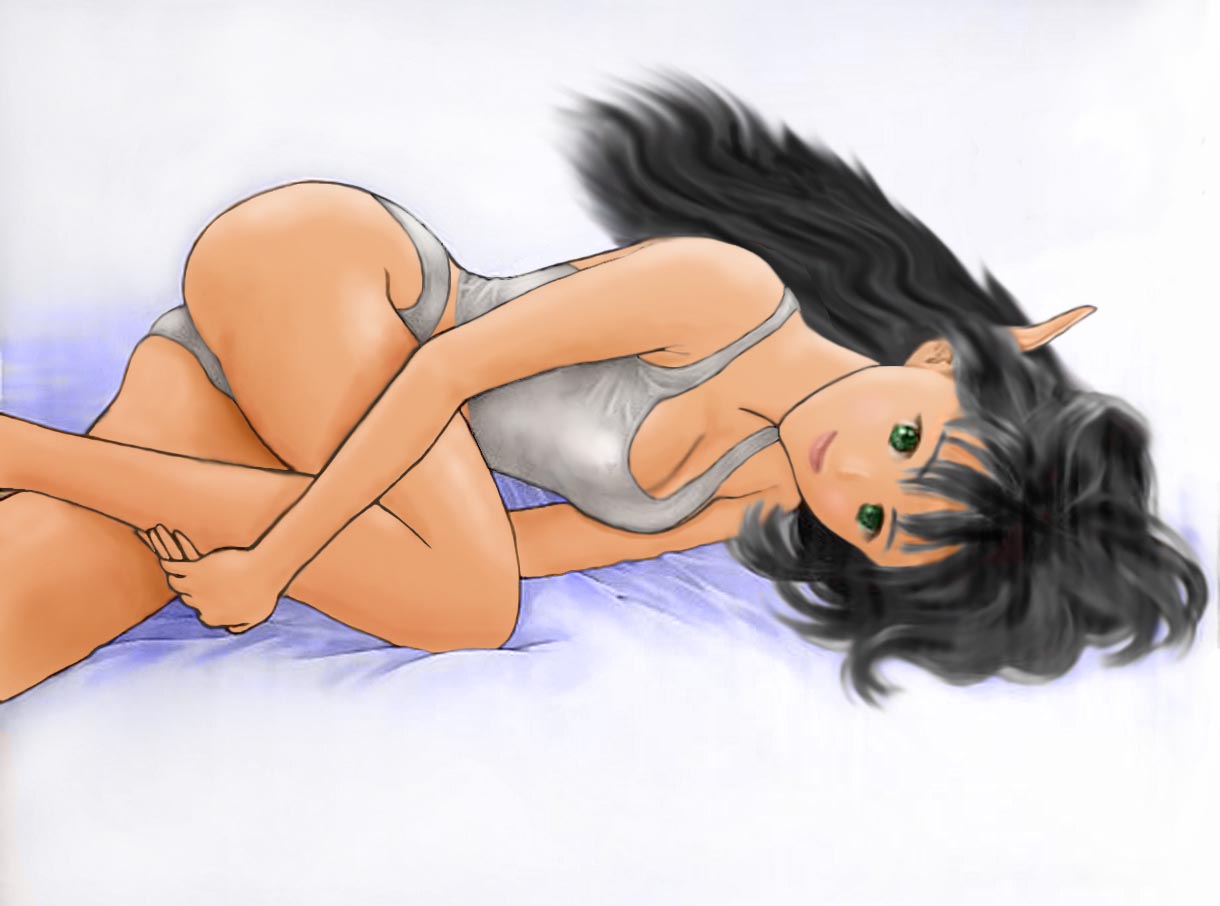 Posted by: Knightsword Sep 4 2003, 09:01 PM
Very nice, now will please show the other version, pretty please...
Nah never mind

Posted by: DarkEpyon Sep 4 2003, 09:39 PM
Very nicely done rinn. Your skills are improving with every piece. Definitely a significant growth from some of the earlier ones you shared with us.

Posted by: Woe Sep 4 2003, 11:28 PM
nice job! i like how the eyes came out...

Posted by: Sheik Sep 5 2003, 02:23 AM
Nice work...and yes, getting better. Now it just needs a nice background.
Posted by: DivA Sep 5 2003, 07:42 PM
men..
i'm curious ~ from an artist-to-artist perspective - is this a work in progress, or is this the finished product? =.

Posted by: Sheik Sep 5 2003, 09:11 PM
I am no expert, but it looks like it is more so a work in progress. Don't yell at me if that's not what you wana here


Good work. Any more going to be done on it?

Posted by: Layrinn Sep 5 2003, 09:58 PM
er... actually... I am done with it, in fact. >.>;

My personal opinion is that a background would take the focus away from what the picture is all about: Layrinn.

I'm happy with it as is... I think my time would be better spent moving on to the next project. ;)

Posted by: AC9breaker Sep 6 2003, 12:36 AM
Man. You truly do some great stuff. Im currently working on a pice too that is proving to be very discourageing. But when I see your stuff I feel a surge of motivation to continue.
Rinn = major Ownage J00 roxors!

Posted by: Layrinn Sep 6 2003, 01:03 AM
*blush*

Wow, that's quite the compliment AC9, thank you.

I only wish my freehand sketching skills were good enough for me to produce some 100% original artwork.
As it stands, I really can't do much without some other source for an outline.

Ah well. At least it gives me a goal... something to work towards. =)

Posted by: DarkEpyon Sep 6 2003, 07:22 AM
Three words my friend... (albeit cliched ones) Practice makes perfect.

Posted by: Mute Sep 8 2003, 11:13 AM
This image came out great. 'Rinn showed me an early model and all I can say is, the hair effect is awesome. *pulls out the satisfaction stamp* Great work yet again. ;p

Powered by Invision Power Board (http://www.invisionboard.com)
© Invision Power Services (http://www.invisionpower.com)