Printable Version of Topic
Apocalypse Tribe HQ _ The Lounge _ Members of AT....DESK TOPIC
Posted by: Dive May 4 2006, 11:14 PM
Ok we all know what we all look like, now let's see where you browse ATHQ from.

This is my setup.





I'll take more when my new pc and monitor get here.

~Edited to update most recent setup.

Posted by: DJ_Donkey May 4 2006, 11:17 PM
Sweet pic Dive =)
Here's mine: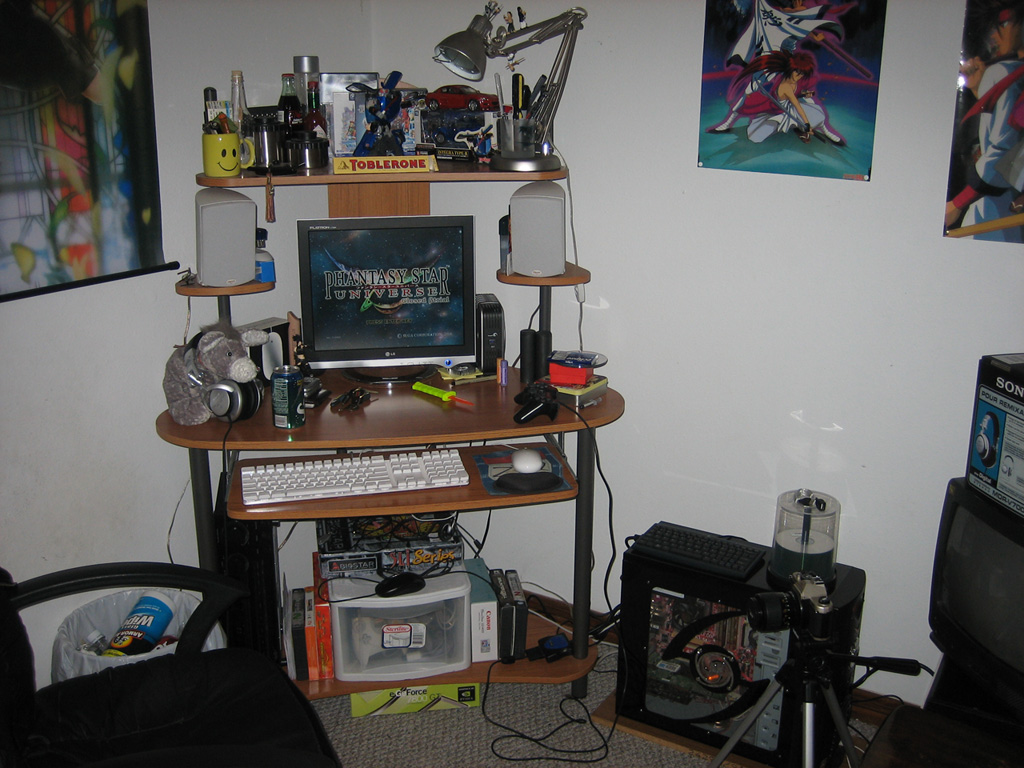 Posted by: Sgt. Retehi May 4 2006, 11:26 PM


Pen tablet, beer bottle caps, old ass stereo, ghetto taped up headphones, not much haha. It takes a keen eye but theres an AOL floppy there.




Flame on!

Posted by: unitself May 5 2006, 11:25 AM
I love the way that you guys cleaned up before taking the photo!
HAHAH!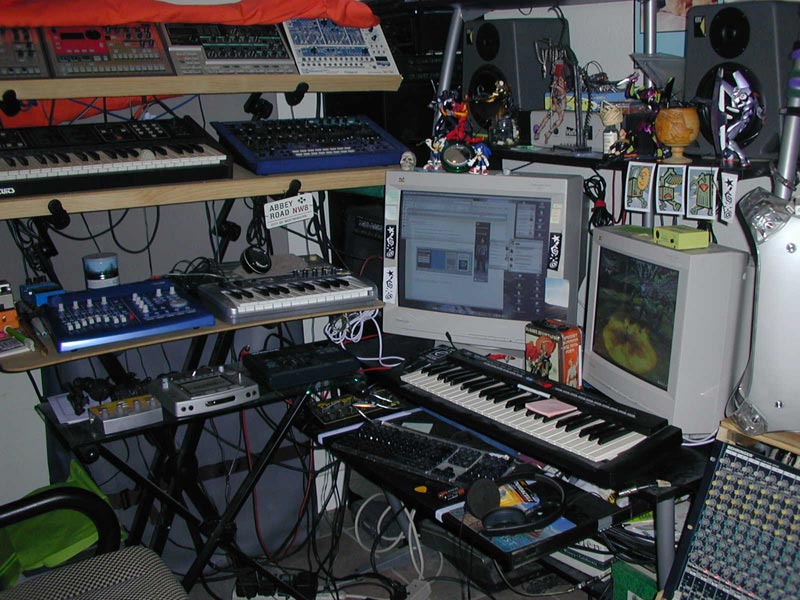 Posted by: DJ_Donkey May 5 2006, 11:32 AM
Damn scu owned us. Topic locked

Posted by: Knightsword May 6 2006, 02:20 AM
I hope mine is prime



Posted by: Sieranis May 6 2006, 12:20 PM
Nice setups, if a little messy, but aren't we all? By the way Dive, did your desktop come with the husky or seperate, because if so tell me where you got 'em.

Posted by: AC9breaker May 6 2006, 02:11 PM
Heres my setup.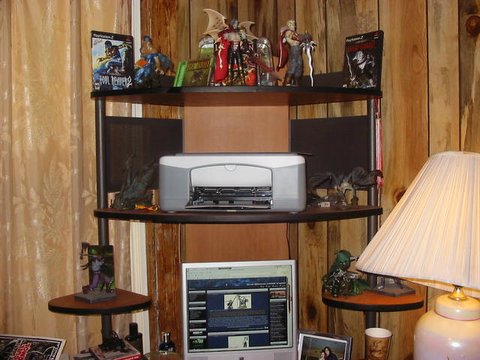 My Mini Legacy of Kain Shrine at the top.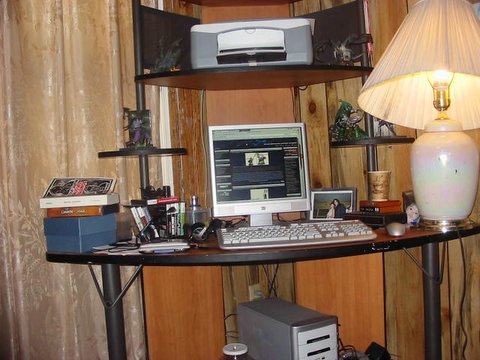 The Situation Area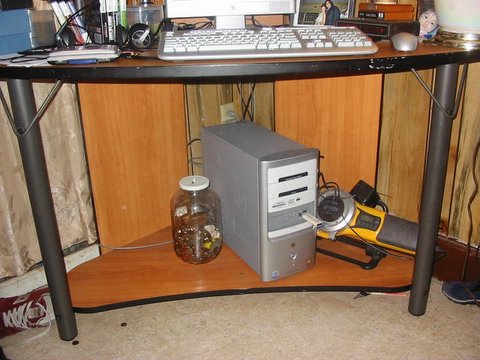 My life savings as well as my Tower.

Posted by: Knightsword Aug 24 2006, 05:25 AM
The Desk with the new pc


Posted by: AC9breaker Aug 24 2006, 07:53 PM
Good Stuff Link, Now you just need an LCD screen and a GiTS mousepad and your set.

Posted by: Knightsword Aug 24 2006, 08:05 PM
Yeah, the monitor is approching 10 years but still runs pretty decently, but I would like to get something that isn't so bulky

Posted by: Knightsword Aug 17 2008, 09:15 PM
My desk with new pc and monitor.




And yes I cleaned the screen after the the pic was taken.

Posted by: AC9breaker Jun 21 2010, 05:44 PM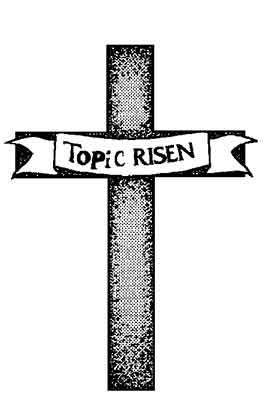 It's been a while since we've hit this threda. I know I got a new setup, I'm just working on taking some snaps now. So c'mon guys, show us what ya got!

Posted by: Kazicht Aug 5 2010, 11:51 PM
Nothing special - this is my workstation + gaming set up in my room currently. Thought I'd take a picture since I recently cleaned it up a bit, although wires are a little sloppy.
The green cage on the floor is my chinchilla's. I keep him in my room during the summer because its cooler when I have the air-con on, they don't really enjoy the heat.


Posted by: tanshin Aug 6 2010, 01:24 AM
That's a pretty nice set up. Nice and simple and sharp, I don't even know what I would do about the wires :/

Posted by: tanshin Oct 12 2010, 01:02 AM
Here's my stuff:


Posted by: donkeybeatz Jan 18 2011, 11:45 PM
Just assembled my new desk a few days ago. Actually, everything is pretty much new from the last time i posted.

Posted by: Dive Jan 19 2011, 06:05 PM
Updated original post to reflect something newer than my desk from 2006.

Posted by: donkeybeatz Jan 19 2011, 06:40 PM
Dag yo, what kind of monitors are you using? And are those stanton turntables? How are you liking them? It's becoming harder and harder to find some technics for a decent price these days so I might take it down a notch and get some lower end gear.

Posted by: Dive Jan 20 2011, 09:11 AM
I have Alesis M1's for the turntable rig, and a Pioneer home theater setup for the PC, in 2 channel. The Alesis give a nice flat reference, while the Pioneer is great for gaming.

Yep, Stantons. The only issue I have had with them is slightly low torque, but that may be due to the wear and age of the units. They work like a charm with Serato. Definitely easier on the wallet than 1200s, and miles ahead of entry level brands.

Here's a shot of them in action in the field.

http://twitpic.com/3e9hqk

I also keep a single cheapie CDJ on hand, as I spin and scratch for performers, who often give me a CDR of their backing tracks. It's easier to swap CDRs between groups, than try to set up the laptop's audio out and bypass the SL1 box everytime. That way I can still scratch over their tracks.

Powered by Invision Power Board (http://www.invisionboard.com)
© Invision Power Services (http://www.invisionpower.com)