The place itself seemed to be a regular crag-like structure.
A broken crag, perhaps?
Ferratha Zaf-Rrawhya played with this thought in her mind. It was an incredibly disturbing concept, especially to one connected to the crags as she was.
This can not be, hehehe.. I have searched through hell to find all of my teleport spells.
She grined to herself happily.
If only they knew about my Teleport-Tavnaz! Wouldn't those stuck up Jeunoians have a fit!
She quickly stifled a few purrs escaping from her maw, and turned toward the tall dark-haired elvaan man next to her. Ferra quickly snuck a glance at her elvaan partner Vormav, who towered over her. He continued to, true to elvaan persona, cover up his immense curiosity and uncomfort.
As she took her first steps inside, she was bathed in an etheral light. This in and of itself was odd considering they were in the heart of the Sanctuary of Zi'tah, where light rarely ever shows, and is constantly cursed with rain clouds.
Ferra was disturbed by the thought that this crag, obviously in shambles, could have been nothing but broken. The only problem remaning was that she did not hear, smell, or see any arcana, beastmen, or animals in her immediate range. She had known since she was a child, visiting Delkfutt's Tower with her mother in need of a Magic Pot core, that certain crags were always invaded with arcana, goblins, beatmen, and feral animals.
Ferra's ears perked with a spark of mischeif growing stomach. She began to mumble an incantation..
"Fool! What are you doing? You saw those Arcana outside! They'll.." her partner Vormav tried to interrupt her casting by slapping her squarely on the cheek.
..Vormav was bathed in the light of Ferra's cure spell, and gave a sigh of relief. Ferra opened her eyes and put a hand to her cheek. "You rotten jerk, some ninja YOU are." she scowled, "Fearless and ever, oh great shadow master Vormav." she grinned to herself, and moments later she began to scowl again. "I'm practically protecting YOU, fleabag. What kind of a move was that? Do you realize how far those things will come when they sense your magic casting?" Vormav looked forward, obviously uncomfortable with the propect of what lay ahead.
"All in the name of science, dearest Vorm! Now we can rest assured that there's nothing to worry about here.." She began to walk swifty down the hallway toward the stairs. She could see an opening, a room of sorts, glowing with a light that provided her with comfort..
.. and as she walked into the giant cavern-like opening, only a small gasp could escape her.
-----
The chains of Promathia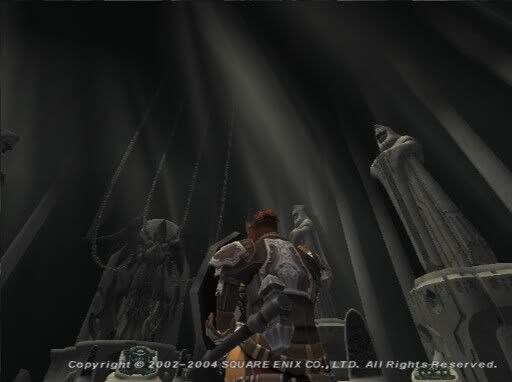 --------
Goddess Altana, please guide and protect me.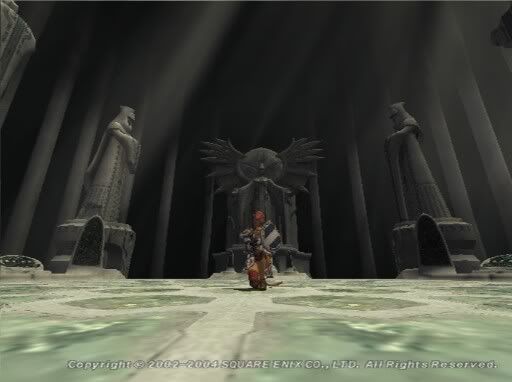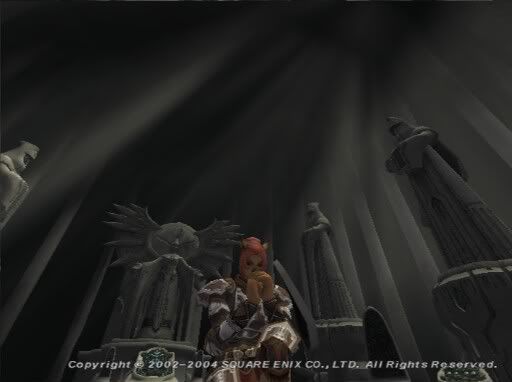 -------
Sorry for the bad writing, I am by no means a writer :] .. but I really did try this time!
Those screenshots are terrible, but they add to the mood! Nobody reads books without pictures these days..

Vormav and I went to Hall of the Gods, and it really got my psyched for my missions. I'm all up in my pants to get to Tu'Lia! You should be too! Lots of exclamations, you must be excited for me!
It's really cool how a couple nights of adventuring have really restored what I specifically remember as
fun
. It's been so long since I've had real fun! All that gil farming and leveling up does somethin' funny to yeh, fer sho'.
You should try it sometime, unless the novelty has worn off. Which I sure it has for a few of you, fufufufu.