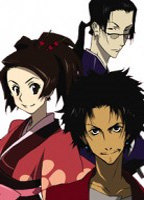 In my recent purchase of the Gungrave volume3 DvD, I happened across a trailer of an anime called Samurai Champloo. Its from anime Director Shinichirou Watanabe. Famous for his work on, "Macross Plus" and "Animatrix: Kids story." More importantly for, "Cowboy Bebop". Well it seem as though he's done it again and has struck Diamond with his latest creation Samurai Champloo.
Well anyway I looked into it, bought the first DvD, and fell in love with it. Fans of Cowboy Bebop are sure to love this. Critics seem to agree that this is top-notch stuff and recommend it to anyone here.
Here a short plot summary.