Say hello to, Apocalypse Tribe the Game, first character. The Crushinating super hero Crushinator. He'll crushinate your mom and he'll crushinate your dad.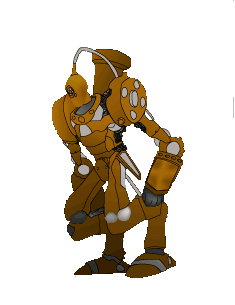 I've actually had this done for awhile and didn't wanna post it yet intill I had all the Crushinator animations complete. I even had all the sketchs done for all the animations but, due to the fact that I am a procrastinating lunkhead I held of on scanning them and working on them on my cpu. My nieces discovered my art and my pentel markers and decided they would look better with some color. Therefore completly destroying them.

But it should be easier to do them again now that I already have an image of the poses and perspectives Im hoping to have a few more done by the end of this month.
Oh yeah and to commemorate the awesomness that is The crushinating superhero, I've added the Tracks Mammal Intros, Everyone's Going Down and, Doreamon's Song to my AT radio playlist. So be sure to tune in to catch these and many more great songs like these. (O'-')>
Please feel free to add any type of suggestions, comments, dislikes, turn-ons, and susceptibility to any type of disease.