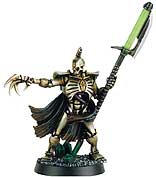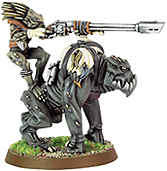 QUOTE( "THQ Producer Sean Dunn")
The cat is out of the bag a couple weeks early, but yes, this information is correct. Dawn of War: Dark Crusade does in fact include the Tau and the Necrons. There will be massive amounts of video and screenshots coming out of E3, and I even will try and make our entire E3 presention available in HD online somewhere. I can truly say that I have not been more excited about the new races. I have never been a huge Necron fan, but not surprisingly the designers and artists have done an incredible job on both races, and the Necrons are a sight to behold!
The 2 new races for the upcoming Dawn of War expansion were announced yesterday, the Tau and Necron. For those of us unfamiliar with the tabletop game here are links to give us a better image.
(Tau)
(Necron)
The Necron seem like an obvious selection since, they make an appearance in the Winter Assult solo campaign. I'm really curious to see the Tau since looking at many of their units, they remind me of the Orkz. I just hope they don't have their own resource type just like Orkz. Either way, they are both gonna be badass additions. One a bunch of zombie cyborgs, the other a bunch of tribal looking aliens.
This years E3 will undoubtly be the best there has ever been.
News and quote taken from Relic website.