What I've stumbled across so far looking for more info.
A teaser trailer for Halo 3 is available for download via XBox Live.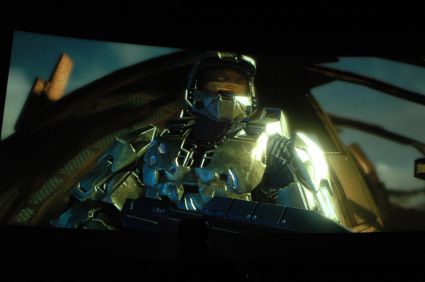 Link Halo 3 Teaser Trailer
Yes, it's true. Master Chief is back again for his final fight. I don't know much about the teaser, but the caption reads this:
With its defensive forces, all but obliterated, Earth has fallen to the unstoppable might of the Convenant. These alien occupiers have discovered something beneath the ancient African sands - something incredible... something Forerunner.
Acording to Bungie Halo 3 will be the last instalment in the trilogy.
Stuff from press conference talks
-Fable 2
-Lost Planet
-Table Tennis
-Mass Effect
-NHL 2K7
-F.E.A.R.
-Too Human
-Viva Pinata
-Moto GP 06
-Battle for Middle Earth 2
-Sonic Next-Gen
-Madden
-World Series Poker
-Saint's Row
-Smackdown
-Stanglehold
-Enchanted Arms
-Test Drive Unlimited
-NCAA Football
-Dead Rising
-DDR Universe
-Superman
-Crackdown
-N3: Ninety Nine Nights
-Gears of War
-Halo 3
-Forza Motorsport 2
-Iron and the Maiden (Naughty Dog's next project, Jak and Daxter is officially OVER)
-Grand Theft Auto 4 (Due to release on the XB360 in October!)
-Live Anywhere : Cross console connectivity Start a game on 360 finish it on your cellphone.
- Xbox360 Arcade will allow for indie and private developers to break into the market
Maybe one of our Xbox360 players can record the video and upload it.