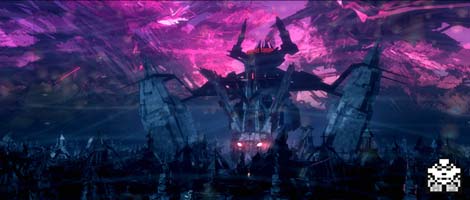 "
Once Upon a time, there was a game that nobody played sitting on the floor in the back room of an empty arcade...The game was full of life and strife, mega monsters and robot fights...We Are The Strange was the title, now meet the players who lay inside idle...
"
I first heard about this film two years ago on a
small message board community
I once frequented. Ever since I first saw
the trailer
for it, I was hooked and had to see it. Mdotstrange, creator of this film worked for a majority of this project by himself in his bedroom. We Are The Strange utilizes various forms of animation such as stop animation, Claymation, & 3D Animation all blended to create what he calls
Str8nime
which conveys a prism of poignant & surreal images. The film is very subtle and clever in its imagery and sub-themes. Add in the melancholy and memorably awesome chiptunes from the film; and people who have grown up playing videogames and spend quite a large amount of their time on the internet such as myself will find it hard to not want to watch this film. A whimsical, naive, playfulness juxtaposed with terrible dread and a macabre world, this is We Are The Strange.
The DVD went on sail October of 2007 and is a 2 disc set that comes jam packed with more extras and easter eggs then anchovies come packed in a can. Self made and self distributed, We Are The Strange is also available on Netflix and the DVD can be purchased at
filmbaby.com
where they even send you a bag of popcorn with your order! Finally, as of a few days ago Mdotstrange as he promised has finally put his film in its entirety on Youtube in what I say is great quality. Of course it doesn't compare to DVD but its better then nothing. The run time is about 85 minutes give or take. The film has also been subtitled in 17 Different languages! So if you got 2 hours to kill, check it out. If you enjoy it, buy the DVD and support this labor of passion, devotion, handwork, and perseverance.
We Are The Strange
Check out his youtube channel for links to his film subtitled in 17 different languages. Including l33t \(*0_o)/