Pretty megaton nintendo conference just a few minutes ago.
New DS, the DSi.
12% smaller, 2.6 millimeters thinner, GBA slot will be excluded. (lol guitar hero DS owned)
Both screens will be increased to 3.25 inches. It will include a camera and audio functionality.
The Nintendo DSi camera will contain 300,000 pixels. Both screens will be touch panels, and photographs should be able to be manipulated through the touch screen.
The pitch and playback speed of sound on the Nintendo DSi can be adjusted at will.
An SD memory card slot will be included. Photos taken will be able to be viewed through the Wii Photo Channel.
There will be on-board memory storage. Applications can be downloaded to the internal storage and selected.
You can take games you've downloaded to the DSi with you. Also, Wii Points will be renamed to become Nintendo Points.
The Nintendo DSi will come with a browser included.
DS Ware will be able to be downloaded from the Nintendo DSi Shop.
Titles will be placed into Free, 200, 500, and Premium (800) categories. DSi systems that connect by March, 2010 will receive 1000 Points as a gift.
System will
launch November 1st, 2008
in Japan, and early next year elsewhere. Price is 18,900 yen (About $180).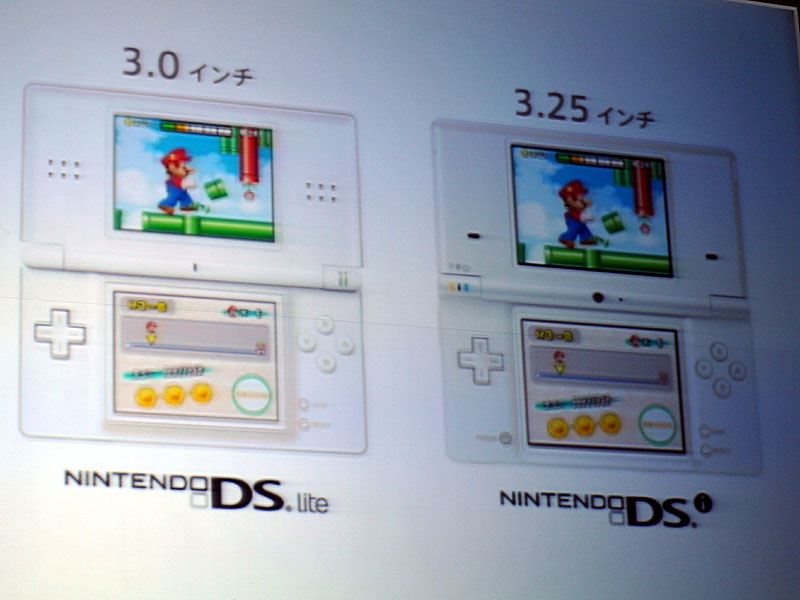 Some key DS games announced: Mario & Luigi 3, Picross 3D, a new Final Fantasy:CC for both DS and Wii with connectivity.
Wii Software:
Punch Out
(fuck YES!), Sin & Punishment 2, Pikmin (not sure if this is a new sequel or just a remake with Wii controls)
Nintendo's site with video montages of the new DS and Wii lineup:http://www.nintendo.co.jp/n10/index.html