This is the piece I alluded to in the Rinn-CG thread. I would have finished it sooner, but I was side-tracked by the Syfte pic. The FOmarl in the pic is supposed to be Ether's character, Seven. In game, Seven is not nearly so mature looking... so Ether and I decided she's a bit more grown up in this pic.
Seven
teen, perhaps? ;p And yes... I know Dolmolms are supposed to have green blood. The unlucky specimen in this pic was a rare purple-blooded breed, ok? >.>;;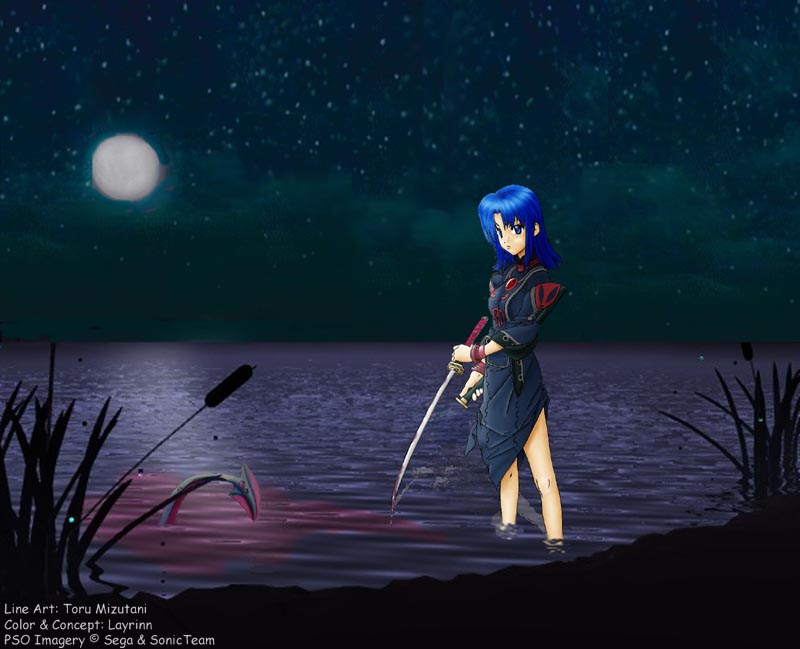 Like the Rinn-CG pic, the black&white line art comes from the same Eternity PSO manga. Color, CG, and effects courtesy of your's truly. The background is a hodge-podge of PSO screen shots, random CG from the net, and original illustration. The links below show some of the steps along the way from the original line art to the finished CG. You should definitely click that last link, since it shows a much larger and detailed portait of Seven.
Original line art
Base color
Face and hair shaded
Arms and legs shaded
Starting on shading the dress
Finished shading the dress and sword.
Final CG
Hope ya enjoy. ^-^;