quote from decepticon-matrix.com

"The year is 1939 and a twisted alliance between a hate-crazed dictator and a ruthless general has left Europe in flames, in chains. The world's only hope against the threat--the creation of an elite counterstrike force. Code name: G.I. JOE. But are even the Joes tough enough to take down this evil empire when it enlists the aid of a merciless army of alien war machines known as the DECEPTICONS?"
Written by acclaimed writer John Ney Rieber (Captain America, The Books of Magic) with stunning artwork by Jae Lee (Captain America, Inhumans) this 6-issue epic mini-series promises a startling re-imagination of these classic characters who defined the concepts of 'hero' and 'villain' for generations with grit, heart, and adrenaline.
The series also features all-new World War II era character designs for both the Joes and TRANSFORMERS by designers Dan Norton & Don Figueroa.
I picked up the first three issues in this series so far and I gotta recommend it to any comic fan, and even if you don't read comics but are a fan of either of these lines, check this out!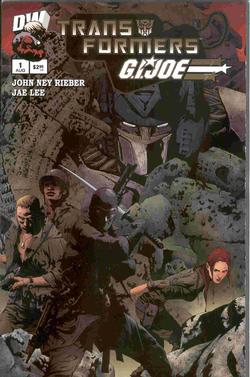 Snake Eyes versus Ravage!